Sales target management for Import Export business?
Why let the days of glory for the import export industry be a lost story? Repeat your history and bring your business to a blooming new high! If you're thinking about this, you'll really like how we can help you out with setting, tracking and achieving new sales targets. Read our booklet.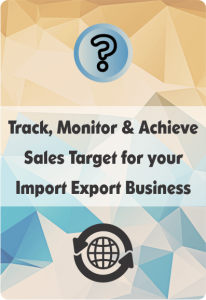 Resources on Import Export Business:
1. Buyer's Guide for Import Export
2. Top features of Import Export CRM
3. Reports in CRM Software for Import Export
5. Hosting, security, compatibility, integration and customization details of CRM Software for Import Export
6. Step-wise guide to buy a CRM Software for Import Export Business
Do you want an obligation-free consultation on CRM For Import Export Industry?
Contact our CRM Solution Architect via phone or email – Click here
Chat with our CRM Solution Architect (Mon-Fri, 10 am-5 pm IST) – Click here
Ready to bring in new beginnings this year? Click here for a demo!
Want more good reads on crm for import export? Head here. 🙂