Sales Target Management for Healthcare Business
The Healthcare industry in India is unarguably one of the largest in the world. The GDP contribution of the Healthcare industry has been a generous one between 8-10 percent last year.
This year will see various organizations expanding their services, healthcare businesses tapping into the wellness bit and much more.
Medical Tourism is one of the factors for the Indian Healthcare businesses will enjoy revenue in Millions. This is due a cost compatible advantage. Increased access, better patient outcomes, technology adoption, and enhanced customer relations are some of the prime factors for Healthcare businesses.
As someone who spearheads their Healthcare business, you know you'll be facing a lot of overseas and Indian patients. Which means you'll be reaching higher sales targets. If you want  a resilient console for setting, monitoring and achieving sales targets, read through our brief booklet.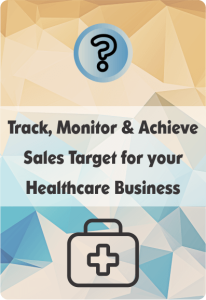 Resources on Healthcare CRM solutions:
1. Download Healthcare CRM Buyer's Guide
2. Download Top Features of Healthcare CRM Software
3. Download Checklist For Buying Healthcare CRM Software
4. Download Factsheet on Healthcare CRM
5. Download Booklet on Sales Target Management using Healthcare CRM
6. Sign up to view Reports in Healthcare CRM
7. Hosting, security, compatibility, integration and customization details of Healthcare CRM
8. Sign up for a Healthcare CRM Software Demo
Do you want an obligation-free consultation on Healthcare CRM?
Contact our CRM Solution Architect via phone or email – Click here
Chat with our CRM Solution Architect (Mon-Fri, 10 am-5 pm IST) – Click here
Ready to sky-rocket your business? Click here for more on Healthcare CRM
Or you could head to our Healthcare CRM category to see the many ways a CRM can help you.