Which business is Healthcare CRM useful for?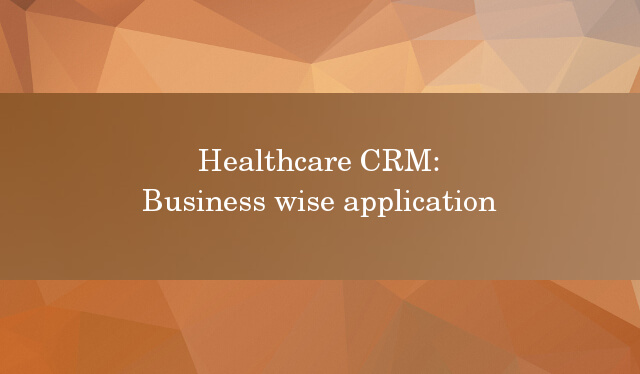 Scenario of the Healthcare industry – 2017:
– Strategic business models, standardized clinical processes and technology initiatives will be undertaken
– Numerous countries will shift from a centralized to a localized health management to provide more targeted healthcare services
– The healthcare manufacturing segment will see a sky rocket growth due to increased demands for 3D printing, robotic surgery and other technological devices
– The patient centred care will be further emphasized to address the client's / patient's clinical, financial & emotional aspects
– New market entrants with deep pockets, esp. consumer & industrial sector will change the face of the Healthcare industry
The customer centric approach as well as accepted technological advances will drive healthcare businesses & organizations to use softwares.
Healthcare organizations will look at using Healthcare CRM software to improve the way:
– Clients / patients are catered to
– How business revenue generation can be strengthened
Healthcare CRM:
Below is a list of all the businesses in the Healthcare industry that our CRM is applicable for.
1. Dental Clinics
2. Eye Clinics
3. Fitness Centers
4. Gyms
5. Manufacturing of any Healthcare products, machinery & furniture
6. Manufacturing of Drugs
7. Manufacturing of Medical Equipment
8. Manufacturing of Needles & Syringes
9. Medical Lab & Diagnostic Center
10. Medical Tourism or Medical Travel, Health Tourism or
Global Healthcare providers
11. Physiotherapy Center
12. Retail Pharmacy Business
13. Retailers of Fitness Equipment
14. Retailing of Medical Equipment
15. Spas
16. Other businesses in the Healthcare industry
In case, your business type is not listed below please contact our Solution Architect to know if our CRM can address your business needs.
Conclusion:
To know more about Healthcare CRM in the flesh, click here.
For more posts, visit our Healthcare CRM category.