Comprehensive information on Healthcare CRM – Part 2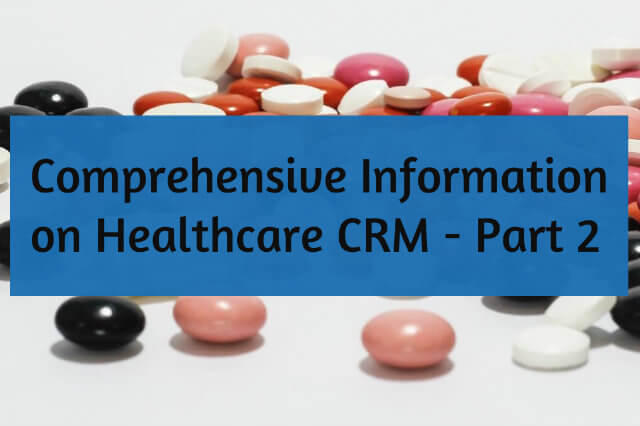 Purpose of this blog
To have a clear conception about Healthcare CRM's utility for Healthcare Industry.
Why should you read this blog?
If you want to
– Maximise your client pool
– Optimize your sales team's efforts
– Derive insights from your sales data
– Schedule regular follow ups
– Keep track of sales targets and sales team performance
When should you read this blog?
– Want to increase your business span
– Give your client's best experience
– Automate sales process
– Bring efficiency to your sales team
– Manage and organize data at one place
– Want to ensure security to your data
CRM for Healthcare business ( India, Australia, USA, UK, Hong Kong, Singapore)
India is turning into a hub for medical tourism. Having said that the responsibilities are huge. The increasing demand in Healthcare sector creates the need to have a CRM system to boost efficiency.
Countries around the world like Australia, USA, UK, Hong Kong, Singapore, etc. are using CRM to accelerate their client management process. Considering the range of Healthcare sector a CRM will help Healthcare businesses to speed up their sales process and client management activities.
Taking into account the above conditions a CRM for your blooming Healthcare business will be a boon.
Hence, we have combined 7 blogs on Healthcare CRM:
1. Factsheet on Healthcare Industry CRM
Take a quick look over Healthcare CRM advantages. Get resources to clear all your CRM related queries.
2. Healthcare Industry CRM Features and Functionalities Infographic
Take a glance at 10 key modules personalised for Healthcare sector. Know how Healthcare CRM can fit into every step of your sales process.
3. 7 to do's before buying a Healthcare CRM
– Explore options in vendors
– Inform & get an update from your team
– Get your Hosting sorted
– Boost your sales team's crm adoption
– Customize  the healthcare crm to replicate the sales flow of your business
– Get the integrations spot on
– Plan how to measure your ROI
4. How to choose the right CRM?
Go through our concise guidelines on how to choose the perfect CRM for your business.
5. Checklist for Buying Healthcare CRM
Choose a CRM according to your business goals. Get a specialised checklist prepared by our CRM experts on Healthcare CRM.
6. 6 Key Healthcare CRM features
– Centralize Patient Information
– Patient appointments
Patient diagnosis
– Store patient scanned reports & documents
– Patient medical history, add details & attach documents
– Patient medication
7. CRM for Healthcare Industry
Know how CRM can help Healthcare Industry to operate smoothly. Get resources on Healthcare CRM.
Contact with our Experts for more details on Healthcare CRM.
You can read more blogs on Healthcare CRM, here.
Resources: