Factsheet on Jewellery CRM
This year will be a shiny new year for the jewellery industry with higher penetrations by new ventures of A-game players. The increased availability of finance & gold loans plus better stabilized rates of precious metals and gems.
Wouldn't it be amazing if everyone who stepped into your showroom actually became a loyal customer? If your answer's a 'Yes!', you're just a crm away from getting your business there! See our factsheet to know the features and functionalities that can make a jewellery crm an asset to your business.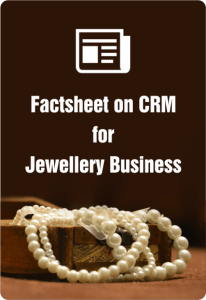 Resources on Jewellery CRM:
1. Download CRM Buyer's Guide for Jewellery industry
2. Download Top 15 Features of Jewellery CRM 
3. Download Checklist for buying Jewellery CRM
4. Sign up to view Reports in Jewellery CRM Software
5. Hosting, security, compatibility, integration and customization details of Jewellery CRM 
6. Sign up for a Jewellery CRM Software Demo
Do you want an obligation-free consultation on CRM For Jewellery?
Contact our CRM Solution Architect via phone or email – Click here
Chat with our CRM Solution Architect (Mon-Fri, 10 am-5 pm IST) – Click here
Want to look around in our crm? Click here!
Or you could head to our Jewellery crm category for more good reads. 🙂