Summary of CRM for Banking Industry – Part 2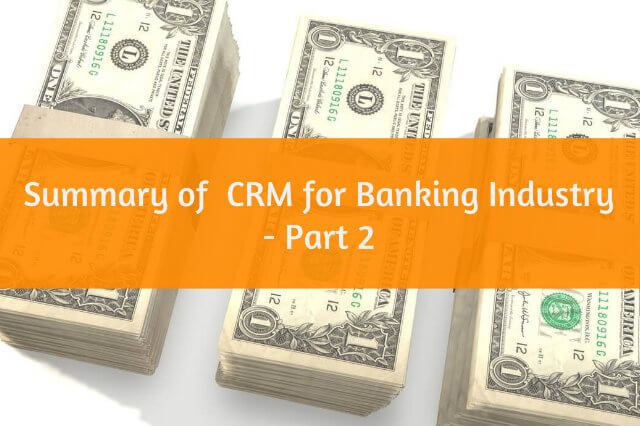 Purpose of the blog
To explain utility of CRM system for Banking Industry in a compact manner.
Why should you read this blog?
If you want to
– Give better service to your leads and clients
– Turn your important sales data insightful
– Boost your Sales team's productivity
– Get real time sales reports anytime
– Increase your lead winning ratio
When should you read this blog?
– Want to magnify your sales figures
– Increase efficiency of your Business development team
– Increase productivity of your client relationship management team
– Store all your sales data at one spot
– Estimate Sales
Banking CRM ( Australia, USA, India, UK, Hong Kong, Singapore)
Banking CRMs are rapidly finding their way into the daily sales and client relationship operations. The customer centric nature of Banking Industry manifests the need for Banking CRM. Developed economies like UK, USA, Hong Kong, Australia, Singapore and many more countries are implementing CRM for better sales productivity.
The CRM scenario in India is just at an infant stage. Banks need highly detailed but convenient systems to suite their complex environments.
It won't be a prudent decision to rely only on spreadsheet softwares for analyzing your sales figures.
A CRM is a suitable  solution for today's  data driven business scenario.
Therefore we have collated 6 most precise blogs to help you have a crystal clear view on Banking CRM.
1. How to track, monitor and achieve Sales targets for Banking business?
Banks may set targets for a particular period, but the crux lies in monitoring them regularly. Read on the blog to view more on effective Sales management.
2. Factsheet on CRM Banking Industry
The internet might be bombarding you with loads of information on CRM systems. Here's a quick factsheet to answer all your CRM queries.
3. Buyer's Guide for Banking Industry CRM
A CRM system can be customized according to your needs. Know the factors to be considered while buying a Banking CRM through this booklet.
Get a detailed checklist about essential CRM functionalities.
5. 6 Key Features of Banking Industry CRM
– Manage leads and prospects information
– Forecast leads weekly, monthly, quarterly & yearly
– Manage all leads on a single platform across various channels of acquisition
– Provide actionable insights to decision making
– Boost results by measuring and improving critical sales performance indicators
– Ensure faster lead conversion
6. CRM Software for Banking Industry
A short but exclusive post answering the basic question "What is Banking CRM?"
We hope this blogpost provided you with the most precise info on Banking CRM.
Still have queries? Don't worry! Get in touch with us !
Read more on Banking CRM, here ! 🙂
Resources: