Financial Services CRM – A Detailed Info Guide – Part 2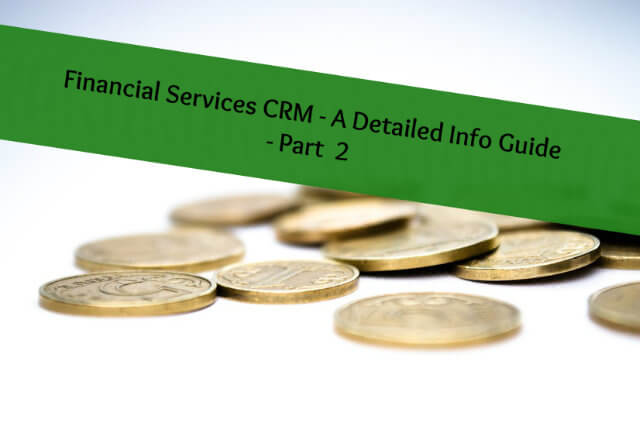 Purpose of this blog
To understand how a Financial services CRM covers all aspects of sales process & client management.
Why should you read this blog?
If you want to
– Automate your Sales process
– Handle your sales data in an organized manner
– Ensure data security
– Monitor sales targets and sales team performance
– Conduct all vital sales tasks from a single point
When should you read this blog?
– When your company is growing
– Want to upgrade your business methods
– Aiming for growth
– Create an image among customers for regular follow ups
– Scrutinizing different CRM vendors
CRM for Financial Services ( India, Australia, USA, UK, Hong Kong, Singapore )
Client relationship management forms the most vital part of financial services industry. We understand, a Financial Services company deals with multiple products, leads & clients at the same time. In countries like Australia, USA, UK, Hong Kong, Singapore, etc. to perform the sales activities smoothly, a CRM is highly recommended. India has also acquired a strong foothold in the Financial services sector. The portfolio of Financial services available in India is quite diverse. Hence it is essential for Indian Financial services sector to opt for a CRM.
To address this new need we have gathered the best information on  Financial services CRM.
Here's a list of 5 concise blogs on CRM for Financial services:
1. CRM for Financial Services : Features and Functionalities Infographic
Understand 13 key modules of Financial CRM and their application in your business.
2. Buying  CRM software for Financial Services
Go through a checklist created by our CRM experts to guide you choose the most suitable CRM for your business.
3. How to choose the right Financial Services business CRM Software
Get a concise guideline for buying the correct CRM. Choose such a CRM that fulfills all your needs, at the same time is convenient to use!
4. Top 4 Financial services business CRM features
– Track follow ups; Past & Scheduled
– Forecast Sales
– Monitor Sales person wise targets
– Never miss a lead follow up
5. CRM for Financial Services Industry
Get to know about our domain expertise in Financial Services CRM. Read about the different financial services entities who can adopt CRM.
We have collaborated the most concise information on Financial Services CRM in this blog.
You can connect with our CRM Experts for more details or queries !
For more reads on Financial Services CRM click here!
Resources: