Import Export CRM gives effective Sales Target Management!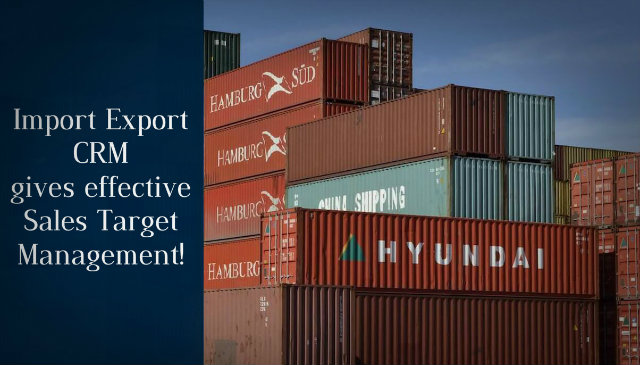 Sales Targets,  Import Export businesses & CRM:               
The Import Export industry displays the strength a country possess in the international business markets. This strength can magnified with strong and viable export policies.(remove) While the government is keen to simplify export business for Indian entrepreneurs, likewise business community is also adopting aggressive sale strategies to place Indian markets at a superior position.
The Sales target module in the Import Export CRM steers the process of sales expansion. It allows the user to set, allocate sales targets and monitor the targets achieved. It auto generates updated reports with effective visuals to help sales teams formulate important decisions.
Sales Target Module
This module lets you:
– Set, track and monitor your sales targets.
– Monitor your business growth.
– Track the performance of your sales teams.
4 Things You Can Do In Sales Target Module:
1. You can set sales targets revenue-wise for any duration by filling in the current form fields.
2. You can set sales person wise targets for any interval such as a month, quarter, half-year, year, etc.
3. You can see all targets achieved & pending with the exact count of days left for period completion.
4. You can edit & delete a respective sales target in the Revenue-wise Sales Target & Sales Person Wise Target modules.
Conclusion:
There is much more a Import Export CRM can do.
Get a demo here to know all its features.
Also find these modules – Import Export CRM
– Leads Module,
– Follow – Up Module (Calls, SMS, Emails & Meetings Module)
– Clients Module
– Users Module
– Contacts Module
Resources on Import Export CRM: