Managing contacts for Import Export business in CRM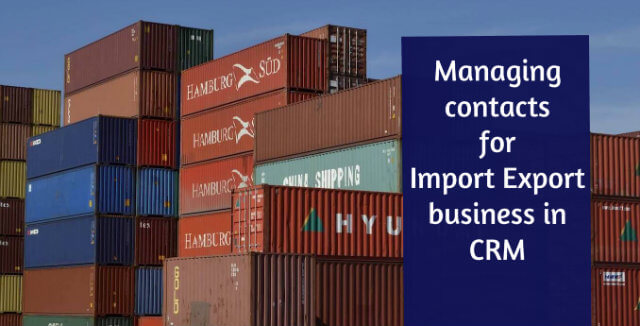 Contact management, Import Export businesses and CRM:
The import export companies are required to deal with a variety of parties. They need not be the leads or clients but maybe vendors of particular goods or services, government authorities, stakeholders etc. Maintaining such a big list of contacts systematically can be a cumbersome task.
The Contacts Module in Import Export CRM categorizes contacts so that it becomes simple to locate them & their needs. Contacts can be accessed, communicated quickly if they are stored on the same system. Maintaining, accessing & sorting communication history with contacts is also an important feature of Contacts Module.
Contacts Module
This module lets you:
– Store, change and remove Client contact details.
– Save crucial dates regarding products and services purchased.
– Set payment reminders, etc.


14 Things You Can Do In Contacts Module:
1. You can import your existing contacts.
2. You can add contact details of leads, clients, vendors etc.
3. You can give tags to categorize contacts of leads, clients, vendors, etc. Eg: Hot Lead, Very Important Client, etc.
4. You can add birth dates, anniversaries, remarks and other information about respective contacts.
5. You can view & edit contacts.
6. You can do the following in List Contacts:
– Update Contact status
– Create Quotation
– Schedule Meetings
– Send / Schedule Emails
– Schedule Follow-up Calls
– Schedule SMS
– Modify details of the contact
– Reactivate or deactivate a contact
– Delete a contact
Conclusion:
Know how a Import Export CRM helps to improve sales productivity with a demo here!
Read more posts on our blog: Import Export CRM

Also find these modules – Import Export CRM
– Sales Target Module
– Leads Module 
– Follow – Up Module (Calls, SMS, Emails & Meetings Module)
– Clients Module
– Users Module
Resources on Import Export CRM: