Retaining Clients in IT business with CRM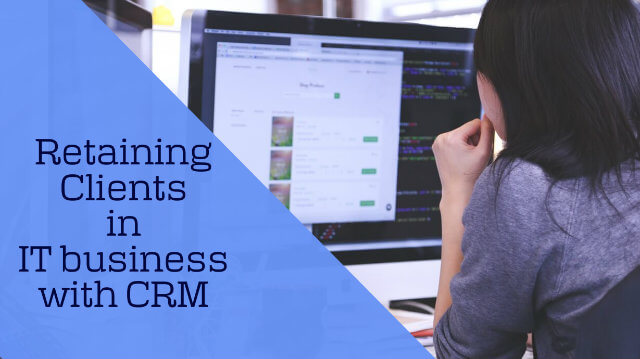 Retaining Clients in IT business & CRM:
New age businesses like yours and ours have high stakes, deadlines, sales targets, salaries to justify and much more! This rat race of winning more business actually leaves out the 'Customer & relationship' parts endangering your perpetual business. This being said, retaining your existing clientele is a much needed skill because a happy customer always comes back to you. Having a customer relationship management software in place can:
1. Give you a record of your Clients, their purchase history & buying behaviour.  
2. It provides tools to market your products & services.
3. Also helps instrument ways to maintain interactions with clients; and
4. Eventually induce more of service renewals, cross selling and upselling.

Sounds like a great bargain right!
An IT CRM has a Clients Module & much more that will help improve your business performance!
Clients Module
1.  You can maintain a record of contact details of your entire clientele.
2. You can allocate, club, call, send & schedule emails and SMS to your clients.
3.  You can import your prevailing client contact data and see the importing details.
Also find these modules – IT CRM
– Sales Target Module
– Leads Module
– Follow up Modules (Calls, SMS, Emails & Meetings Module)
– Users Module
– Contacts Module
Get more return customers for your IT company, click here!
More reads on IT CRM await you here. 🙂
Resources on CRM solutions for IT industry: