A Closer look at the benefits of CRM for Import Export!
It's human tendency, things can miss your eye. If you're the kind who needs to know all parameters on which a crm can add value to your sales and transactions.
There's a lot of water under the bridge, and lots of fish in the sea. Here's a good look into the benefits of the 'web' based crm to help your import export business grab more.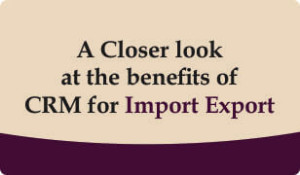 These are the finer details.
1. Store all your data centrally:
Having a scattered data syndrome can make your prone to malfunctions. A crm will let you store data of your leads, your sales activities, contacts, details about your products and their availability at your godown.

2. Manage several leads simultaneously:
Divide leads not your efficiency / quality: If you're manually sharing leads and expecting spectacular clarity amongst your team members, you're in for chaos. Using a crm can give you and your sales team speckless clarity about how every lead is being managed and followed-up. An import export crm can save you tons of confusion about your leads.
3. Follow-ups:
You can't expect you body to function flawlessly without a healthy heart. The same is the case for your business deals and follow-ups! Always being the need of the hour having a streamlined and automated process for follow-ups can get a lot of conversions done. A crm solution gives your sales people the efficiency and intelligence of pulling-off winning follow-ups. Schedule, follow-up, update, repeat! Back these follow-up exercises with so precious client data and watch your perseverance turn into conversions!
4. Create, approve, send & follow-up Quotations:
Simple & effective quotations quicken the negotiation and deal closure pace. This could sound easy to execute in theory only if you're not using a crm. A crm for your import export business will empower your conversions with triumphant quotations by assuring they're all approved internally, sent, followed-up and precise by all means.
5. Know & improve the lead flow in your sales pipeline:
Some common concerns for uncommon entrepreneurial success usually revolve around, "how much business am I getting?", "what's going on in my business?" & "how can I win more clients?". You can be left perennially clueless if you're unaware about the pros and cons of your sales cycle.
Once you've got substantial data to give you a visual of which leads are in what phase of your cycle & how many bounce-off / convert. Getting real-time access helps you quickly sum up and take business calls about what needs to be improved in your lead persuasion.
6. Set sales targets:
Knowing whether your business ship is heading, sinking or floating can help you pivot your business in the direction of success.
You can also dig deeper using reports generated in the import export crm to:
1. Get sales forecasts.
2. Monitor sales person-wise performance.
3. Analyze every occurrence in your business sales in real time.
Ready to set sail on a crm? Head here for your crm demo. 🙂