All About IT CRM! – Part 2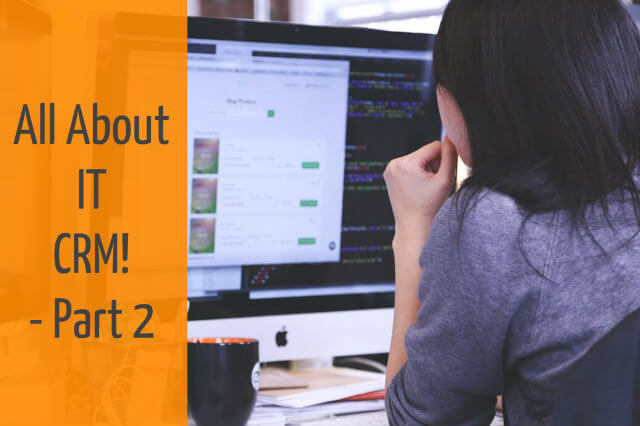 Purpose of this blog post on IT CRM:
To help you completely understand CRM & its application for IT businesses.
Why should you read this?
If you want to:
– Monitor & achieve sales targets
– Magnify lead conversions
– Regulate sales follow-ups
– Keep an all-time tab on your business
When should you read this?
– While assessing vendors for your IT CRM purchase
– Wanting to inflate the size your company
– Formulating sales force automation
IT CRM in India, Australia, U.S.A, U.K, Africa, Hong Kong, Singapore, etc.
The Indian IT industry being a dynamic has faced a lot of ups & downs. Considering the fact that IT services are tremendously responsible for providing shreds of technical infrastructure to the BPO, financial services & many other  industries. There's a lot riding on IT businesses for revenue generation. Like Australia, USA, UK, Hong Kong, Africa, Singapore, etc. the Indian IT industry too is investing on CRM to streamline & fasten the business pace.
This blog post is a piece of work to give you extensive information on IT CRM in a quick span.
We've compiled 6 of our IT CRM posts to give you all the features, technicalities & get you beyond the stepping stones for buying a IT CRM:
1. Factsheet on CRM IT industry
Facts about IT CRM that cover the tangible & technical parts like features & hosting respectively.
A simple & effective checklist that can help you spot the best IT CRM for your business.
3. How to choose the right CRM for IT Business?
A brief buyer's guide that will help you step by step during a CRM purchase.
4. IT Features & functionalities infographic
All the features of an IT CRM laid out on an infographic.
The essentials of an IT CRM that you can't compromise on if you want success with a CRM.
An overall brief of how IT crm solutions fit into the IT business scenario.
Conclusion
We hope this piece of information has helped make you a more aware CRM seeker.  
Try a demo here for a better idea or browse our blog category on IT CRM.
Resources:
R