Comprehensive Jewellery CRM Infoguide – Part 2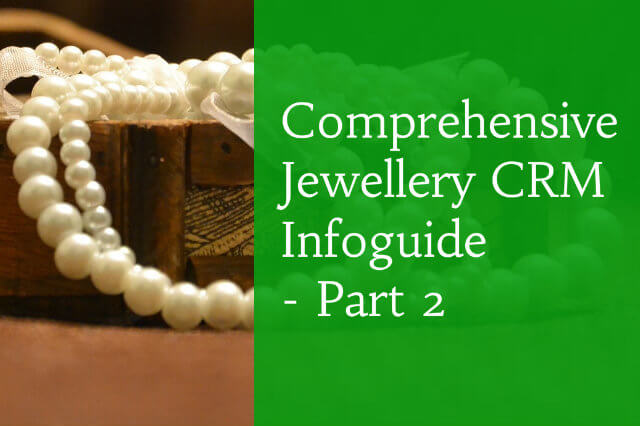 Purpose of this blog post on Jewellery CRM:
To help you know everything about a Jewellery CRM in a simple & smart manner.
Why should you read this?
If you want to:
– Manage & achieve higher targets of Jewellery sales
– Convert enquiries actively
– Make sales follow-ups efficient
– Know every stepping stone for your business
When should you read this?
– While assessing vendors & softwares for buying Jewellery CRM
– Wanting to expand your business
– Planning on automating sales processes
Jewellery CRM Scenario in India, Australia, South Africa, USA, UK, Hong Kong, etc.
Jewellery businesses across the world from  the U.S.A, UK, Australia, Africa, Hong Kong, etc. have succeeded in tapping more of a market for their jewellery products and have built pioneering business models with a variant and gripping sales agenda. Marketing to customers, entertaining leads efficiently and retaining more customers with a well informed BQ 'business quotient'; these are the validating points why Jewellery businesses in India too are looking at buying a CRM.  Nonetheless, the Indian jewellery industry is a diamond in the rug with an upper hand in the global market, all we need is refining of sales processes!
This blog is a fine collection of 6 of our posts about Jewellery CRM.
We've curated different posts to give you a 360 view of a Jewellery CRM.
Guidelines on how to get the best jewellery crm & spot competent vendors.
2. CRM forJewellery industry features & functionalities infographic
A look at the specks of a Jewellery CRM.
3. Top  6 features of Jewellery CRM software
Short descriptions to answer to, "what are the must have features for a Jewellery CRM?"
4. Checklist for buying Jewellery CRM
A brief list to help you get the best information on Jewellery CRM to optimize your CRM shopping spree!
5. Information on CRM for Jewellery business
A short summary of how crm is a resource for the Jewellery industry.
Conclusion
We hope this piece of information has helped make you a more aware CRM buyer.  
Try a demo here for a better idea or browse our blog category on Jewellery CRM.
Resources: